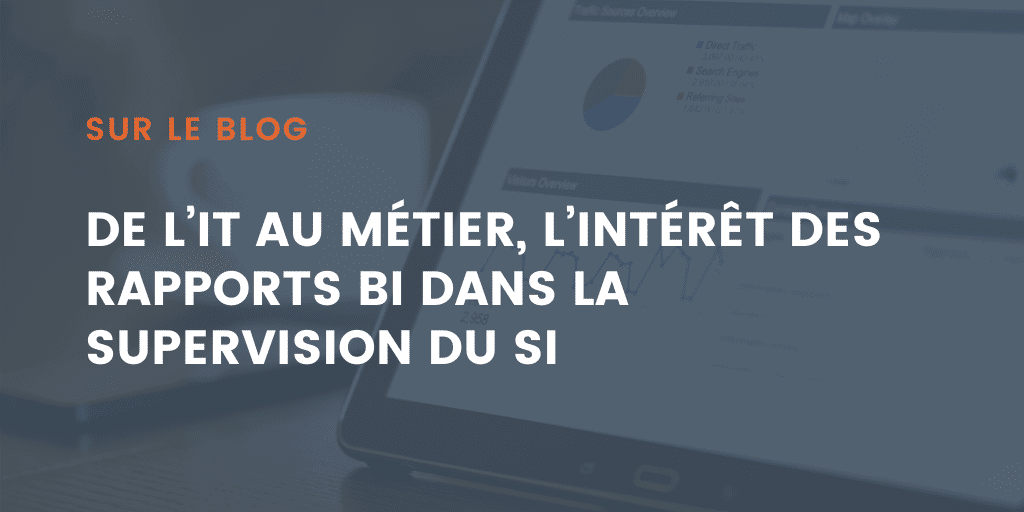 From IT to business, the interest of BI reports in IS supervision
Data-driven is good, data-driven based on clear information is better. Dedicated to IT decision-makers, the MIP Solution's BI reports facilitate exchanges between the operational and strategic levels. A business intelligence tool, it visually presents the supervision metrics from different sources to serenely pilot the actions related to the Information System.
Discover the BI report module of the solution in 4 key points thanks to the words of Luc Dallemane, Data Analytics Expert at Maltem Insight Performance.
BI Reporting in a nutshell:
In the IT environment in particular, reports follow one another and look alike. The data is too often technical, which leads to a difficulty of language and understanding between operational staff and decision-makers. However, one particular format in the MIP Solution brings the discourse together: BI reports. The BI Report provides a clear view of the service. It takes the form of a document shared every month and highlights the strengths and weaknesses emerging from the analyses carried out.
Directly accessible online, this dashboard is designed to be graphical, in order to provide a useful and immediate interpretation. By exploring data visually with intuitive representations, tracking key indicators is instantaneous.
It is mainly intended for decision-makers and strategic levels, more rarely for operational staff who still need access to metrics pushes.
What does the BI report contain?
By default, the reporting takes a global view on IT tools. But it is essential to customize it according to the needs of its readers. Thus, via the MIP solution, it centralizes data, analyzes the performance of applications, of the measured networks and thus brings new and conceptualized information.
Some examples of metrics tracked:
SLA calculation (Service

L

evel Agreement)

Saturation rate of a site

Server saturation rate

Cross-referencing data from one application with another to better understand its performance
What added value for the reader?
Through its BI report, the client can challenge its suppliers and obtain the performance expected in the contract. Each performance measurement is a source of optimization for the client, on its internal tools, and therefore on its business value.
With this module, it is possible to aggregate data, customize the layout and share reliable results with relevant teams. The interest is therefore to understand and act according to the data from the supervision tool, to make the best adjustment decisions.
Concrete example of
reporting
BI
: measure the performance of Teams
By creating a reporting based on the information provided by the platform, but also by all third parties (via API for example), we can monitor the quality of calls.
It will be possible to determine which networks are having the most difficulty (Wifi, 3G, 4G), whether a particular call origin is failing to make contact, or whether performance is stable over several months.