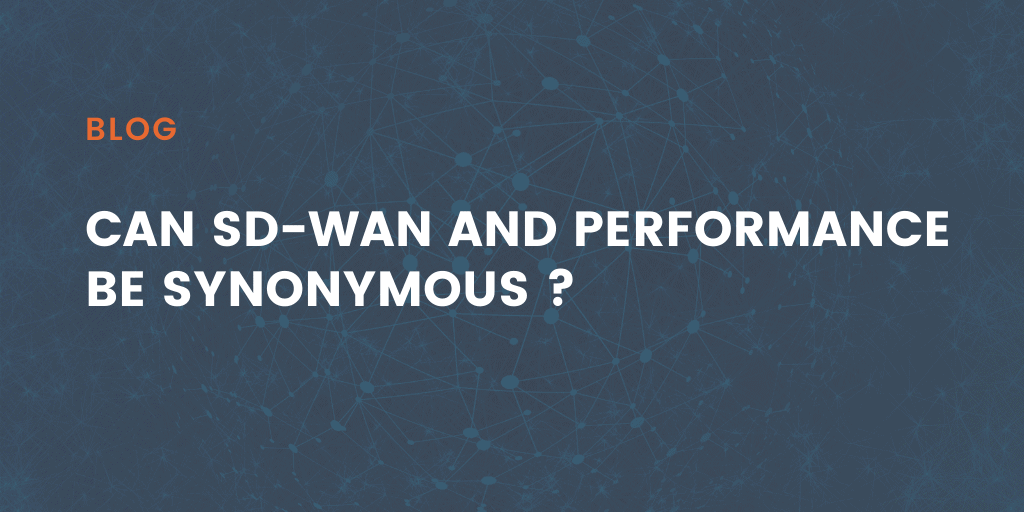 Can SD-WAN and performance be synonymous?
SD-WAN is gradually gaining its place in the enterprise network landscape. As the successor to IPsec and MPLS, SD-WAN aims to provide configuration flexibility, lower costs, and leverage the properties of each link. Does this infrastructure allow a performance adapted to the uses?
1. SD-WAN, SaaS, and mobility
Office365, Google Suite, or web CRM are spearheading a new form of application distribution. The term SaaS (Software as a Service) is used to describe these cloud-hosted solutions with improved accessibility.
At the same time, and this is all the more true since the 2020 events, the user's habits are evolving and he expects his professional digital experience to be close to 100% available, whether he is on site or working from home. Mobility is a challenge. The organization is no longer evaluated solely on application performance, but also on its ability to provide a smooth and slow user experience.
The impact of these collaborative SaaS tools on bandwidth is concrete: the consumption of Internet resources has never been as high as in 2020, and will continue to increase in the coming years. Performance and security are a must, it becomes crucial for organizations to optimize the distribution of resources, and therefore to better manage network capacity and bandwidth.
2. SD-WAN Implementation
While SD-WAN has been gaining momentum recently, its name and framework have been defined by the Open Networking User Group (ONUG) since 2014 already.
SD-WAN implementation relies on software and cloud technologies to implement network overlay mechanisms. A virtual overlay, on top of the network links, which allows a finer control of the exploited channels.
The aim is to optimize the distribution of bandwidth through each type of link (ADSL, Fiber, 4G, 5G), and thus ensure the best possible supply for the organization's strategic activities.
3. Benefits of SD-WAN
SD-WAN involves one or more players, on physical and virtual tiers, allowing flexibility and change management to keep pace with the increasing pace of business change.
These mechanisms and flexibility facilitate WAN operations, allowing IT managers and CIOs to deploy simple, reliable, and secure connectivity.
By simplifying fleet management and ensuring consistent levels of performance, SD-WAN provides an optimal network solution, generating region-specific cost savings and easy configuration.
However, there are disadvantages, notably due to its lack of maturity, and the complexity of managing several suppliers.
4. SD-WAN performance measurement
SD-WAN vendors typically offer integrated monitoring. Since metrics stop at equipment availability, it is difficult for IT teams to have a clear view of performance in detail. Even more so if the organization uses several solutions, and ends up with scattered dashboards.
Also, SD-WAN technology is not yet standardized. This leads the actors of this technology to provide monitoring with criteria and thresholds varying from one to another. The availability feedback from the integrated monitoring is then not very relevant, and difficult to use.
Questions then arise:
How do you ensure that availability and performance are always there for end users?
How to establish performance monitoring with dispersed measurement tools?
How can you trust the metrics reported by SD-WAN vendors if nothing is standardized?
External monitoring is the key to retrieving reliable and complete metrics. Some IT supervision solution editors offer a brick allowing the measurement of SD-WAN parks.
Maltem Insight Performance, through its MIP Solution, offers personalized support adapted to companies' architectures. IT teams are only interested in analyzing results in the form of dashboards, or more detailed graphs if needed.
Don't hesitate to request your private demo today!