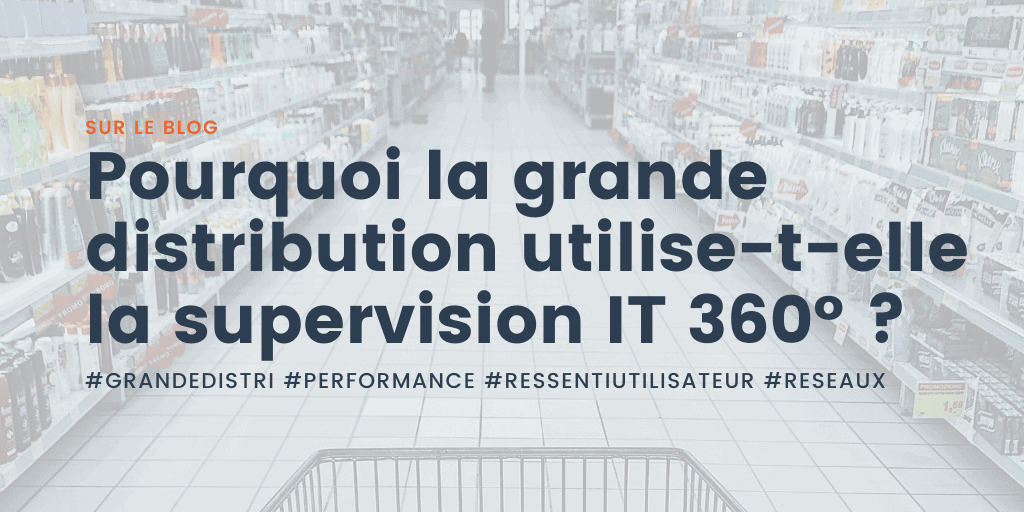 Why does the retail industry use 360° IT monitoring?
Retailers are part of one of the most competitive sectors. Digital transformation allows them to differentiate themselves and gain market share on a global level. This dynamic includes the standardization of the multi-channel model, the offer of new digital services via connected objects, and the optimization of operational processes to meet these needs. These developments require organizational changes at the IT level, for example by considerably increasing Internet requirements. So how do you deliver optimal IT performance in this new digital environment?
IT PERFORMANCE MANAGEMENT IN THE RETAIL SECTOR
For all major retailers, security and availability are key issues. As business is linked to the proper functioning of digital applications and services, it is essential to ensure that lIT performance is at the appointment. This concerns the business applications used by employees in the office, but also those used as contact points with customers.
Digital pathways must be smooth for customers, and in-store shopping seamless. The rise of the multi-channel and the increase of connected devices in hypermarkets are shaking up IT and bringing new issues such as increased internet resources and infrastructure performance in front of it. It is therefore preferable to gradually abandon the reactive mode and turn to proactive mode.
Indeed, the analysis of performance trends coupled with a proactive alert system allows IT teams to troubleshoot an incident before the end user is even impacted. Technical measures and user experience measures validate that the customer experience remains at a high level.
A GLOBAL VIEW THAT REDUCES BUSINESS IMPACT
All retail IT departments are already equipped with monitoring solutions. And there are many of them! One platform for the infrastructure teams, another for the technical application teams, and yet another for the development environment. With the implementation of a IT performance management adjusted to this new economic model, it is preferable to have a global view, unified, and close to the end-to-end.
The IT monitoring market is complex, often intrusive, and it is difficult to find the right tool for all IT environments: legacy, SaaS, Citrix, dual authentication, SD-WAN, … This is where opting for a non-intrusive unified solution, such as the MIP Solution, makes sense:
Ensure that a store on the other side of the world is not disconnected from the network
Make sure that the credit card terminals are up
Conduct analysis and make reliable and relevant reports to the management and the Hypermarkets, Supermarkets and convenience stores
Measure all networks and applications, whether they are in WiFi, Lan, Wan, 4G, 5G, via mobile and pc
Analyze the capacity planning to best adjust the allocated resources
With a well thought-out measurement strategy and metrics played out in real time 24/7, it is now possible to monitor network and application performance to identify incidents before end users. The global view reduces diagnosis time, limits false alarms, and above all calms relations between IT teams and with the stores.
The business can focus on its objectives with complete peace of mind, and customers can enjoy their shopping experience!