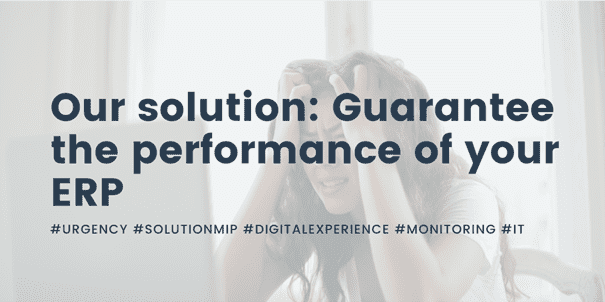 Our solution: Guarantee the performance of your ERP
Doubt the performance of your ERP?
Our solution: Guarantee the performance of your ERP
An ERP (Enterprise Resource Planning) system is a type of software that companies use to manage their daily activities such as production, accounting, purchasing, project management, risk management and compliance, as well as supply chain operations.
ERP systems can encounter a wide variety of problems. For instance, an increase in the volume of data could cause software to slow down. Also, contradictory feedback can occur due to a heterogeneity of users.
The maintenance of an ERP service is also overseen by several entities. By the software vendor, by the company that sets up the software, and by the company that hosts it. This complicates the ability to identify the source of a problem. Not to mention, the combination of satellite tools that connect to the system in order to retrieve information and provide additional services (factoring, stock for the e-commerce site or other).
First thing's first, measure the performance of your ERP
To begin with, and because an ERP is a critical business application, its performance must be monitored over time (Application Performance Monitoring). ERPs can be local interfaces or ERPs with web interfaces. The MIP solution allows the measurement of the performance of ERPs from the users' point of view(Digital Experience Monitoring), in both cases.
Among the measurement criteria, we can use the opening time of the application, the connection time to the application, the display time of dashboards and orders in progress, even the time for third party accesses via API, as a few examples.
Some criteria to measure performance:
open the application,
connect to the application,
display the Dashboards,
display the orders in progress,
access via AIP by a third party.
Analyze the performance of ERP
The next step is to analyze the performance over time to identify weaknesses and slowdowns . These can be chronic, systemic or isolated. They can come from the ERP itself, or from the network or hosting infrastructure.
Stakeholders are then informed of the issues found so that anaction plan can be put in place. Videos and screenshots can be used at this stage to display the urgency of the need for action.
Once the problem has been solved, maintaining the measurement service over time will prevent relapses. Then, performance indicators can be integrated into the dashboard to measure the quality of service provided to users (IT performance monitoring).
And you? How do you monitor the performance of your ERP? With a classic IT monitoring software or an outsourced service management?