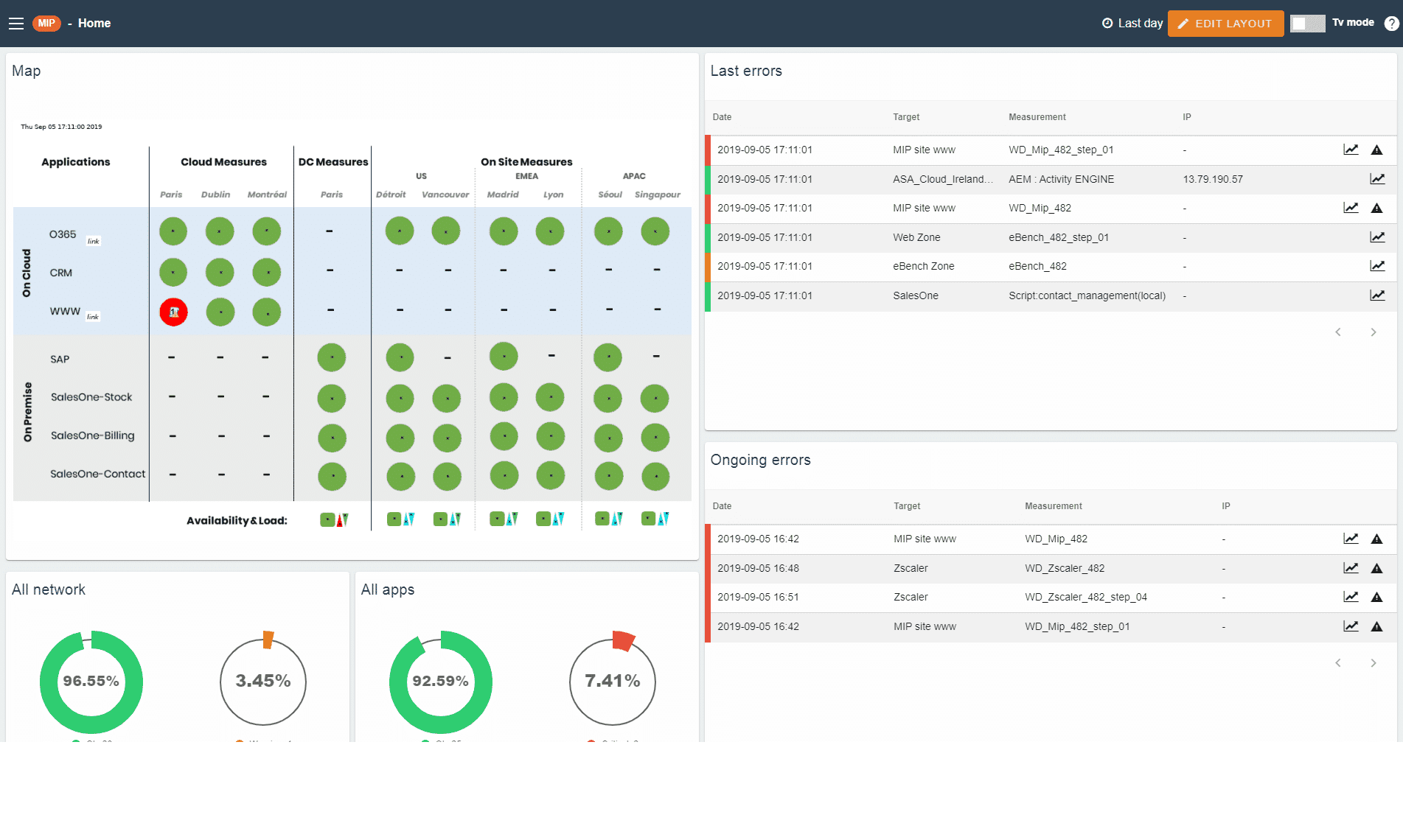 MIP Solution – The new interface
Maltem Insight Performance, a French player in IT monitoring for more than 10 years, launches the new interface of its unified monitoring solution called "Solution MIP". With the MIP Solution, the managed service provider enriches its user experience-oriented platform with a new design, but also with many disruptive features. Whether it's application, network or infrastructure performance, the all-in-one view facilitates the management of KPIs and brings a proactive approach to IT teams.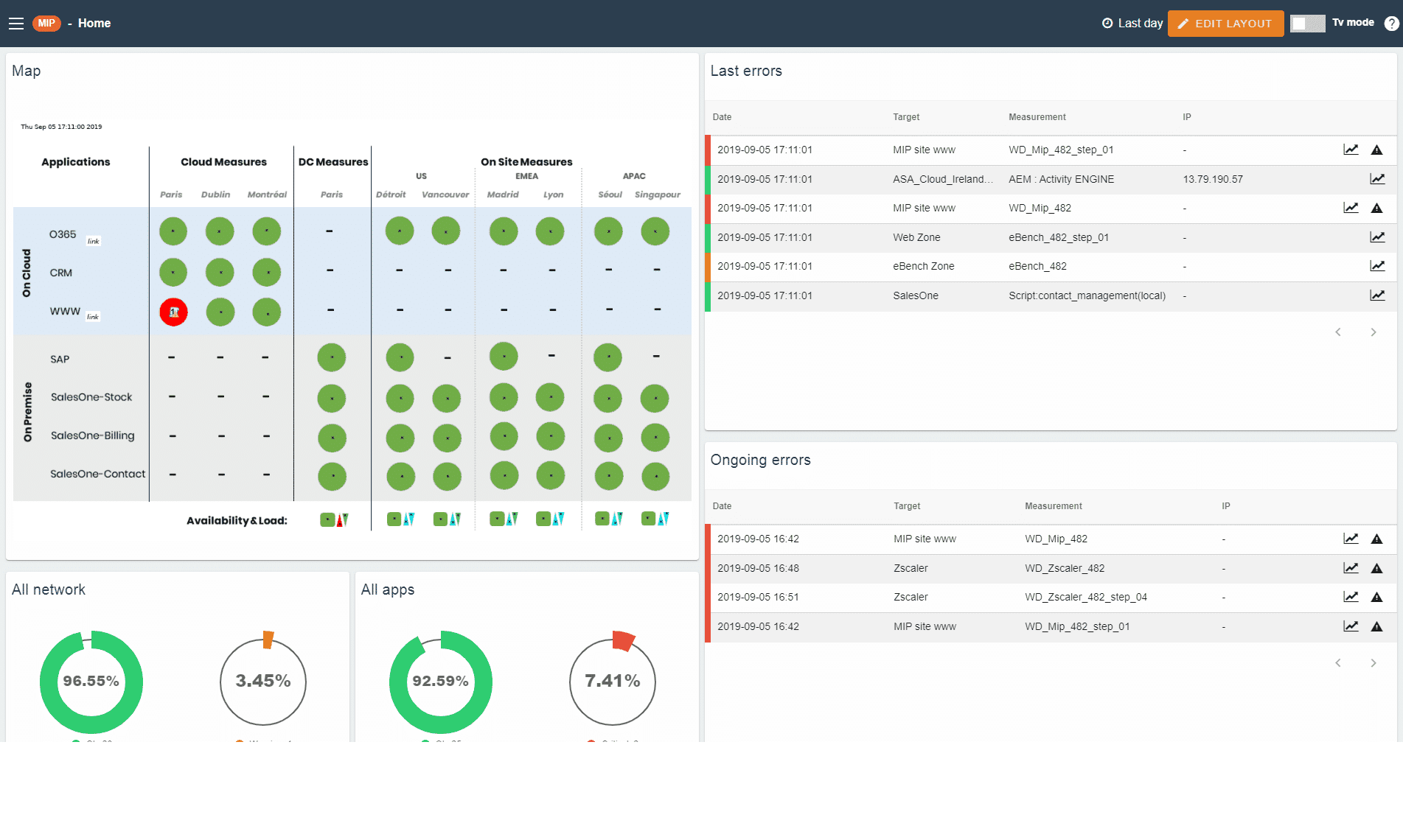 IT supervision market
According to Gartner, "By 2023, pure availability-based monitoring solutions will negate 90% of digital transformation efforts due to a shift away from customer objectives in an increasingly cloud environment." *
To meet this major challenge of IS adaptation and innovation, Maltem Insight Performance focuses on performance from the user's perspective.
"With this global vision, we have a positive impact on the cohesion of IT teams, accompany companies in their digital transformation, and contribute to the dissipation of silos, which facilitates incident management," explains Frédéric Ribes, Service Delivery Manager at Maltem Insight Performance.
The interface is now UX oriented, facilitating the readability of the elements. Browsing between network and application indicators, and deepening metrics allow for a seamless cross-silo experience.
New challenges for monitoring
The initiative of a redesign is not only focused on intuitive navigation. Features based on customer feedback and market analysis are also being introduced:
With its new API, the consumption of IT performance data meets the needs of automation, reporting, and therefore agility.
"While continuing to provide personalized support to our customers and with a view to constant improvement, we have made a quantum leap in the Digital Experience Management part through the Insights features for iOS or Android with, for example, video replay of incidents; but without ever abandoning the technical, or expertise parts that make up our strength: new security measures, SD-Wan, or mobile." presents Bruno Biscay, Project Director at Maltem Insight Performance.
In SaaS or On-premise, the customizable dashboards combining DEM and NPM adapt to the processes of organizations, and structure the global performance metrics of the IS.
Julien Castel, Product Director, continues: "We are pleased to provide our customers with a solution that can be used by the greatest number of people, with a simple and relevant reading. A solution that integrates effortlessly into the information system and improves the users' experience. Here we wanted to highlight the good performance of the IS, useful for both internal users of the organization, as well as for IT teams who want to take a proactive turn."
Maltem Insight Performance is certain that the strong investment of its teams for the release of this new interface will continue to contribute to this philosophy of IT cohesion that it holds dear.
Key new features:
GLOBAL :
Full UX oriented
TV mode
API
Integration of "labels" to provide more information to operators
DEM :
Insight" functionality that allows the visualization of all relevant data of an application on a single page
Easy access to screenshots and video replays of incidents
Complete false positive management
User scenarios on iOS and Android
NPM :
Security measures: better analysis and understanding of the proxies/firewall load
Integration with SD-WAN platforms to measure remote site performance
Reminder of the initial features:
Simple and complex scenarios
Inter applications
Screenshots and video replays
Multi devices
SaaS and thick client monitoring
Measurements via Citrix
Waterfall loading app
Analysis of uses and resources
Capacity planning
Traffic analysis
Service Level Agreement
ZScaler Analysis
*Gartner "Monitoring Beyond 2020: Focus on Performance," Pankaj Prasad, February 5, 2019.
About Maltem Insight Performance:
Maltem Insight Performance has been developing an in-house IT monitoring solution for over 10 years. Based in the Basque Country, France, this entity is part of the ecosystem of the international group Maltem.